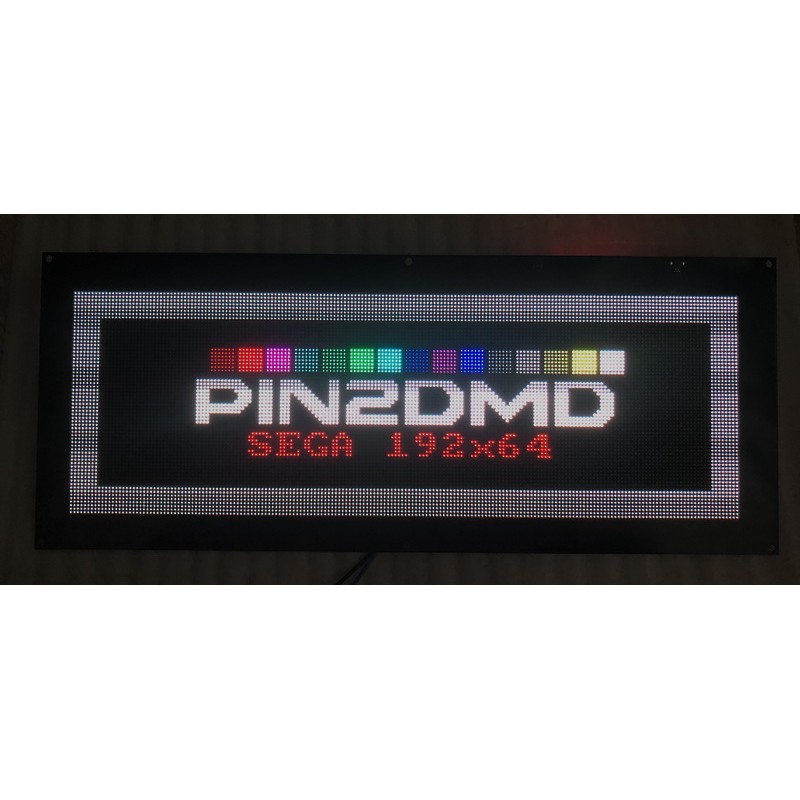  
Pin2dmd Flipper EVO 192x64
Replacement for large SEGA / Data East screens with a resolution of 192 x 64 pixels.
RGB LED matrix display

Connect and use!
from now on our PIN2DMD-Xl screens are activated!

Supported are:
-Maverick
-Mary Shelleys Frankenstein
-Batman Forever
- Baywatch
Reviews
ya pas mieux en tout point site,prix service apres vente qualité des produits et de la personne qui tient le site ;) j ai acheté un evo pour un getaway et un baywatch le top
Rien a dire, service impecable, livraison rapide et support technique au top. Fonctionne parfaitement sur flipper BAYWATCH.
the EVO is in one piece, that is to say that everything is on the same printed circuit, Unlike the pin2dmd for classic pinball which consists of a frame (plexi plate 5mm thick) of a shield v4 (printed circuit making the connection between the panels and the stm32 nucleo) a stm32 nucleo (it is it which manages the functioning of the pin2dmd) of a tension step-down (to bring back the 12v of the pinball machine to a tension of 5v for the pin2dmd) all assembled.



Just replace the old DMD with our pin2dmd kit and enjoy the colorful animations.
you can replace your old DMD which no longer works and enjoy only the monochrome colors

Much more aesthetically pleasing than the pin2dmd for classic pinball.


Pin2dmd connection and menu:
Examples in colorization video:
The available colors are:
-Mary Shelleys Frankenstein
-Batman Forever
-Baywatch
Pin2dmd is a hobby project and it must be activated.

Once the key has been entered and saved on the SD card, the module can be used.

You can take the unlock key yourself and put it on the SD card.

By taking the key directly from our shop, in agreement with Lucky 1 the creator of this solution, the sum will be donated to the association https://www.deslumieresdanslesyeux.fr/ and the license will be placed on the SD card.

This association aims to improve the conditions of reception of children, especially in hospitals, by placing pinball machines.

For the colorization, make me the request and if it is available, you will choose the link to order it. once you have received it I can (or by yourself) put it directly on the SD.